Archives [Rwandan Aviation]
In ths category, you will find archives about the Rwandan Aviation.
First of all a big thanks to PgKivu who granted to us the authorisation to upload these rare pictures, of the Kamembe Airport.
Air Rwanda B707 at Kigali (Rwanda)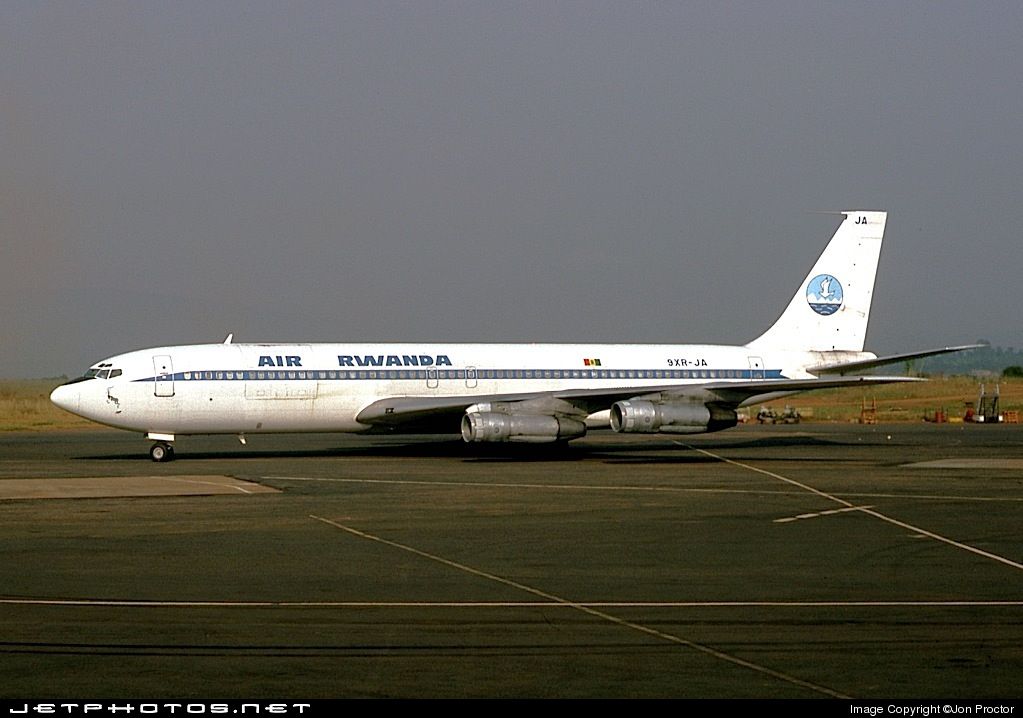 ---
---
Video Douglas C-47B Dakota Belgian Air Force at Kamembe (Rwanda)
:
Rare video of Kamembe Airport, filmed in 1954. In this video, we see some planes, most of them are Douglas DC-3s, including one, registered K31 OT-CNR.


The Douglas DC-3 is a fixed-wing propeller-driven airliner. Its cruise speed (207 mph or 333 km/h) and range (1,500 mi or 2,400 km) revolutionized air transport in the 1930s and 1940s. Its lasting effect on the airline industry and World War II makes it one of the most significant transport aircraft ever made.
The major military version, of which more than 10,000 were produced, was designated the C-47 Skytrain in the USA and the Dakota in the UK. Many DC-3s and converted C-47s are still in use around the world. (Wikipedia)
The DC3 seen on this video was used by the Belgian Air Force. It was delivered new to the US Air Force, on 14 March 1945. 2 Days later it was transfered to the Royal Air Force (UK). It was sold to the Belgian Air Force, in 1950. It was used for Aerial Photography, then for operations in Congo, in 1950s. It was retired from Air Force and scrapped in 1972. http://www.wingsovereurope.com/dc-3_wreck.html
03/10/ 2015

---
First Dreamliner to land in Rwanda
:
The first Dreamliner landed in Rwanda, on 11 September 2012. Currently, Ethiopian Airlines is the alone airline to serve Kigali, with the Dreamliner. However, KLM could be the 2nd airline. It's too early to know it.
© Ethiopian Airlines Kigali Team

---
Kigali Airpot in the 1980s
:
Kigali Airport in 1980s. During this period, the airport was served by Sabena, Air France, Kenya Airways, Air Zaire, Air Burundi, Air Rwanda and Aeroflot.
Here are some facts, about the airlines that you can see on this picture:
PB 201 : It was an Air Burundi flight, operated by a Twin Otter.
RA 109 : It was an Air Rwanda flight, operated by a Twin Otter.
ET 825 : in 1970s and in 1980s Ethiopian operated a weekly service Addis Ababa - Kigali - Luanda (Angola), with a Boeing 727.
KQ471: it's a Kenya Airways flight, operated with a Douglas DC-9. This flight number still using by Kenya Airways on its Kigali service.
AF 483: Air France started flights to Kigali, in 1975. Until 1982, the airline served Kigali, via Athens and Nairobi, using a Boeing 707. Then, Kigali was served with the Boeing 747 (Bujumbura was able to handle the 747). Air France operated some special flights to Kigali, with the Concorde
SU 445 / 446 : from 1970s to 2000, Aeroflot served Kigali, using mainly the Tupolev 154M. In 1980s, the routing was Moscow Sheremetyevo- Simferopol – Cairo – Nairobi – Entebbe – Kigali
Cliff Mugisha 1980s
---
Kamembe (Rwanda)
:
NEW
This Sabena DC-3 was operating a flight to Usumbura, which was the capital of the Rwanda - Urundi, now became after the independance Rwanda and Burundi.

1948

---
Kigali Airport in 1970s
:
Here is a rare picture of the Kigali Airport formely Grégoire Kayinbada. The buidling under the control tower is a former passenger terminal, now use as a VIP Terminal, since the opening of a new terminal in 1980s. On the left, this building was destroyed. Paraboles were built here. On the right it's probably the former cargo terminal, and you can see a VIP platform.

During this period airlines served Rwanda, was Air Zaire, East African Airways (became Air Tanzania, Kenya Airways and Uganda Airlines), Air France, Sabena (became Brussels Airlines), Transafricair (Rwanda), Société de Transport Aérien du Rwanda (became Air Rwanda), Société de Transport Public Aérien and Société de Transport Aérien du Burundi (became Air Burundi)
Mid 1970s

---
---